Some feature from Flowbox have been completed today. Now I can browse around my files and folders. 🙂 However, it still need a lot of work and improvement, since in the current stage, it still working slowly and buggy.
As of now, I have able to change the widget size and image size using separated configuration files. To read configuration, I use ConfigFile class by kidscracker, which used on his E2 Light application. So for theme system, it is working now.
Here is some snap: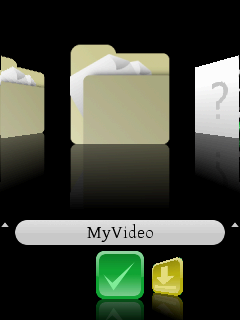 Sweet…. 🙂
Here is some stuff that has been done:
Browse from folder to folder.
Extension default images can be customized, that means, while you have music files, you can display different image than unknown file.
Root directory can be customized, umm, I mean the starting directory.
Menu images and layout background can be customized.
Widget size and images slide size can be customized too.
That's it… But some bug is still annoying me…
The text widget and PictureFlow widget is not synchronized sometime. 🙁
Slow when reading directory. 🙁
And I still need to work on the plugins system and more configuration to each theme and plugins. (as for now, the configuration is still in a single file, but it's read the images on the specified theme directory)
That's it for today… 🙂